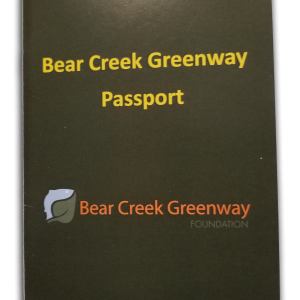 The maintenance and extension of the Bear Creek Greenway is one of the main tasks of the Bear Creek Greenway Foundation. Without the help of volunteers and donations from community members this trail would not have reached its 18-mile length as it is today. To keep extending the trail, the Bear Creek Greenway Foundation needs to continue to raise money.
The Greenway Passport is an awesome coupon book, with discounts provided by local restaurants, hotels and activity businesses. The Passport includes savings of over $240 and is sold for only $50!
100% of the sales are donated to the Bear Creek Greenway Foundation and due to its non-profit organization status, the passport purchases are TAX DEDUCTIBLE!
Passport buyers are encouraged to explore and experience the Rogue Valley in new ways, while using the Passport and supporting the Greenway.  Each time a Greenway Passport holder uses their passport at a participating business, they will get that page signed or "stamped."  Once a passport is completely filled in with "stamps," the holder can simply mail their passport to the Bear Creek Greenway Foundation and be entered in our end of year raffle for a great prize from a local Rogue Valley Business!
To buy your Greenway Passport, simply click on the "Buy Now" button below.  Your Greenway Passport will be mailed to the address provided, with a receipt for your tax deductions and you can start saving and exploring!
Buy your passport today, explore the Rogue Valley and support your Bear Creek Greenway!
Here's a list of our participating businesses and their offers:
Wild River Pizza – 1 free kid menu item with the purchase of an adult entrée
REI – 1 free Bike Bronze Tune
Buttercloud Bakery and Café – 1 free slice of cake with a purchase of $10 or more
Rogue Rock Gym – 2 free day passes
Camelot Theater – 1 free seat upgrade
Flywheel Bicycle Solutions – 10% off of all parts, accessories and clothing; 5% off of all non-sales bicycles
Lithia Springs Resort – 1 free 2-hour bike rental
Bear Creek Bicycles – 10% off parts and accessories
Ostras! Tapas and Bottle Shop – 10% off
Cycle Sports – 10% off parts, clothing and accessories
Indigo Creek Outfitters – 2 free chums (eye glass containers)
Noah's River Adventures – 10% off for one person
Larks Inn at the Commons – 1 complimentary appetizer from our happy hour lounge menu
Ashland Hills Inn and Suites – $99 room rate for one overnight stay
All deals are valid until 10/31/18